ARTIST SONDRA LIPTON
Her paintings are ornamental florals and still lifes with highly eloquent embellishments and witty compositions.
———————————
MRS. ASTOR BUYS A LEMON
Mrs. Vincent Astor bought a Sondra Lipton still-life painting of lemons. A New York newspaper wrote about it with the headline that Mrs. Astor Buys A Lemon. She was not amused—and made it known—because she did not want personal publicity—only attention to her charitable works. As a result, this drew nationwide publicity to Sondra Lipton and her artwork.
———————————
PRESS COMMENTS
"Charming vegetable paintings." — Town & Country
"A bunch of kohlrabi, a basket of tangerines or simple bowls of flowers are turning on The Ladies these days. These are the subjects of the small oil paintings by Sondra Lipton, done in great detail against dark backgrounds in the styles of the 17th-century Dutch masters." — The New York Post
"The arrangements of flowers, fruit and vegetables are small but ultrarealistic, gaining an almost three-dimensional feel from their
highly lacquered surfaces." — The Milwaukee Journal
"Ms. Lipton's still lifes take as their subjects: fruit and vegetables, breads, a row of spring flowers in terra-cotta pots, intricately woven baskets holding fruit and flowers and an array of blue and white Chinese vases." —The Litchfield County Times
———————————
GOURMET MAGAZINE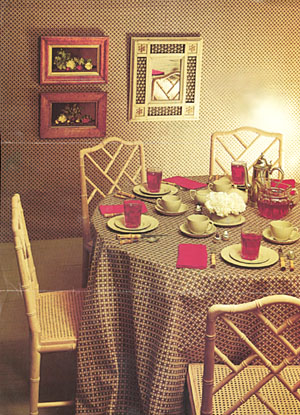 Lipton's still lifes
INSIDE AN IRISH HOUSE BY SYBIL CONNOLLY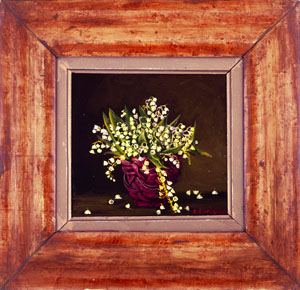 Lipton's Lilies of the Valley still life was featured in Sybil Connolly's coffee-table book, Inside An Irish House.
———————————
WHAT SONDRA LIPTON SAYS ABOUT HER PAINTINGS
"Just flowers and vegetables and fruit and all those lovely curious embellishments of the old Flemish painters were so fond of. Butterflies, ladybugs, shells, snails, dewdrops. A flower is always prettier with a little dew on it."

She describes her work similar to the style of the 17th and 18th-century Dutch/Flemish artists. "I continue in that realistic tradition, but I give the still lifes a more modern feeling. I also sometimes use oil on paper, which makes the painting lighter."
———————————
STORE COMMENTS WHERE HER PAINTINGS WERE FEATURED
"Is there a Renaissance woman? Yes, Sondra Lipton. You can see Ms. Lipton's collection of exquisite miniature still-life oils." Neiman Marcus

"Sondra Lipton, a collection of paintings, brilliant, small oils on wood reminiscent of 16th and 17th century Dutch still lifes, handsomely framed." Lord & Taylor
———————————
HER PAINTINGS ARE IN THESE COLLECTIONS
Brooke Astor
Mr. & Mrs, Ralph M. Baruch
Ms. Sybil Connollly
Mrs. Gardner Cowles
Lord and Lady Dunsany
Mrs. Pierre DuPont III
Mrs. Anita Colby Flagler
Lady Gloria and Mr. E.H. Flower
Mrs. Sybil Harrington
Mr. Ross Hunter
President Lyndon B. and Lady Bird Johnson
Mr. James Earl Jones
Ambassador and Mme. Guy de Keller
Mr. And Mrs. Gerald Van der Kemp
Mr. Van Johnson
Lord and Lady Lisburne
Mrs. Paul Mellon
Mrs. Seward Mellon
Mr. Gene Moore
Mrs. Jacqueline Kennedy Onassis
Mrs. August Pabst
Mrs. Warren Pershing, Jr.
Mr. Nelson Rockefeller
Mr. And Mrs. Richard Rodgers
Mr. Isaac Stern
Mr. Jiro Sugiyama
Mrs. T. Suffern Tailer
Mrs. Franz Talley
Countess de Veyrac
Sir David Webster